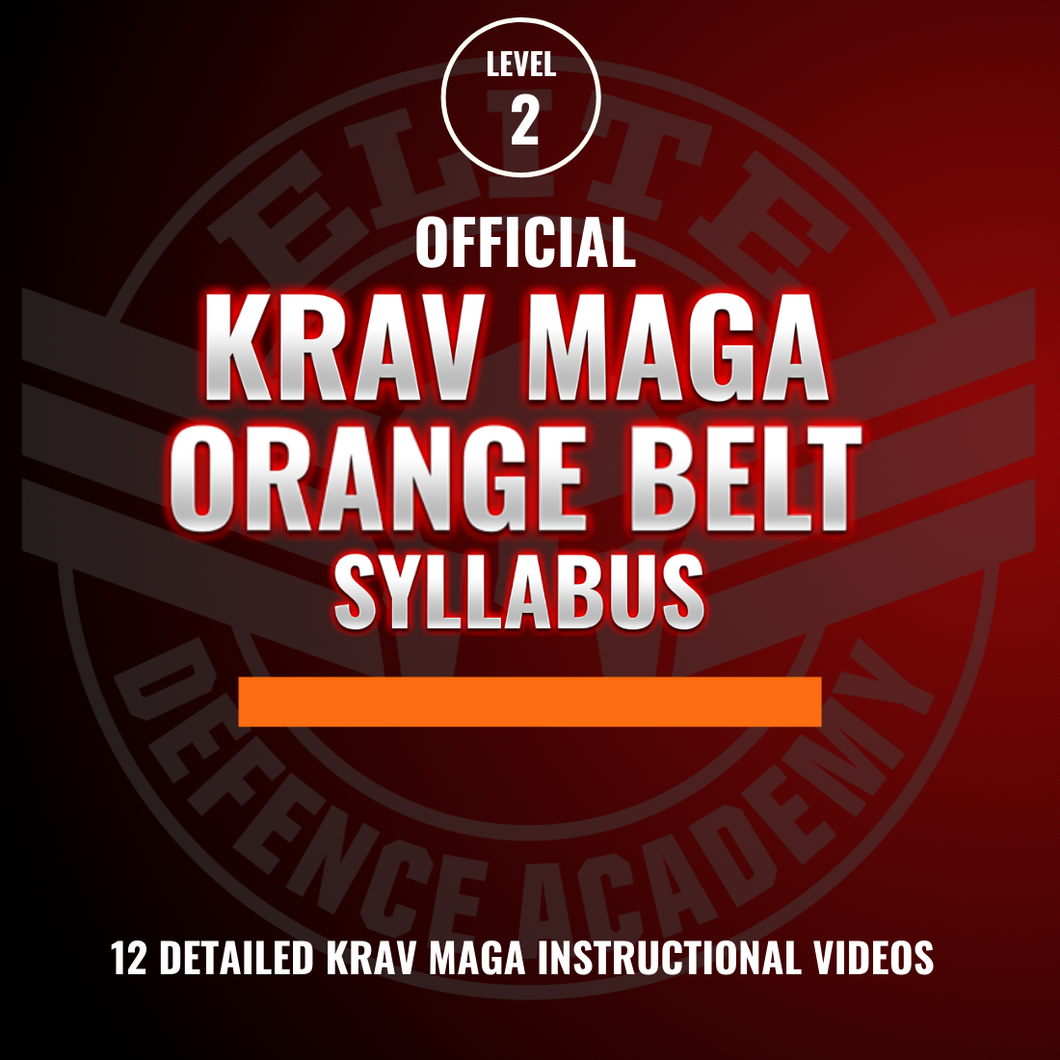 EDA Krav Maga Orange Belt Syllabus (12 Videos)
Regular price R 1,999.00 Sale
BUILD ON THE BEGINNER FOUNDATION OF ELITE DEFENCE ACADEMY INTERNATIONAL KRAV MAGA WITH THIS BELT LEVEL COURSE
Now, for the equivalent of only US$120, you can gain full access to the next step of the detailed, comprehensive training program taught in our syllabus. This enables you to study and practice the EDA system of Krav Maga systematically and precisely as you would do in a class.
GET TO THE NEXT LEVEL
Our 12-Module Krav Maga Orange Belt Course is a step-by-step, 12-video training course that follows on from the Yellow Belt Course and expands on your knowledge of the basics, while adding numerous new techniques to your arsenal.
As with the Yellow Belt Course, every one of these modules contains a response to a specific situation, and teaches you how to apply Krav Maga techniques to neutralize the threat or attack instantly and effectively.
The training provided is data-driven, which means means that every technique you learn here has been proven effective actual real-life situations. 
Anyone can learn these, and you don't need to be fit, strong, or have any kind of prior experience to do this course.This bundle of videos includes:
Escape from a Mount or Guard on the ground (basic rape defense techniques).
Defenses against an aggressive icepick-grip knife attack.
How to use a knife as a powerful defensive weapon.
Defenses against slashing knife attacks.
Basic defenses against stick or bludgeon attacks.
Defenses against a knife to the throat.
Defenses against a low knife stabbing attack.
Using a short stick or baton as a defensive weapon.
Defenses against a pistol-whipping attack.
Principles of defense against a multiple-attacker holdup scenario.
Dealing with multiple-attacker rushing attacks.
Rape defense against two attackers.

Purchasing and completing this 12-module course enables you to:

- Expand on the Yellow Belt Syllabus Course training.

- Qualify to apply for an optional online Belt Ranking Test and certification if you would like to.

YOU GET A PERSONAL MENTOR:

Remember, when you purchase our material, you are entitled to personal mentorship, where we will answer any questions and assist you with your training at any time.


PLEASE NOTE: Once you've completed your purchase, you're added to our customer registration list before your video link is sent to you. Because this is a partially manual process, it may take between 30 minutes and a couple of hours, depending on the volumes we're processing. So rest assured - once you've done your purchase, your video link will be sent direct to your inbox!