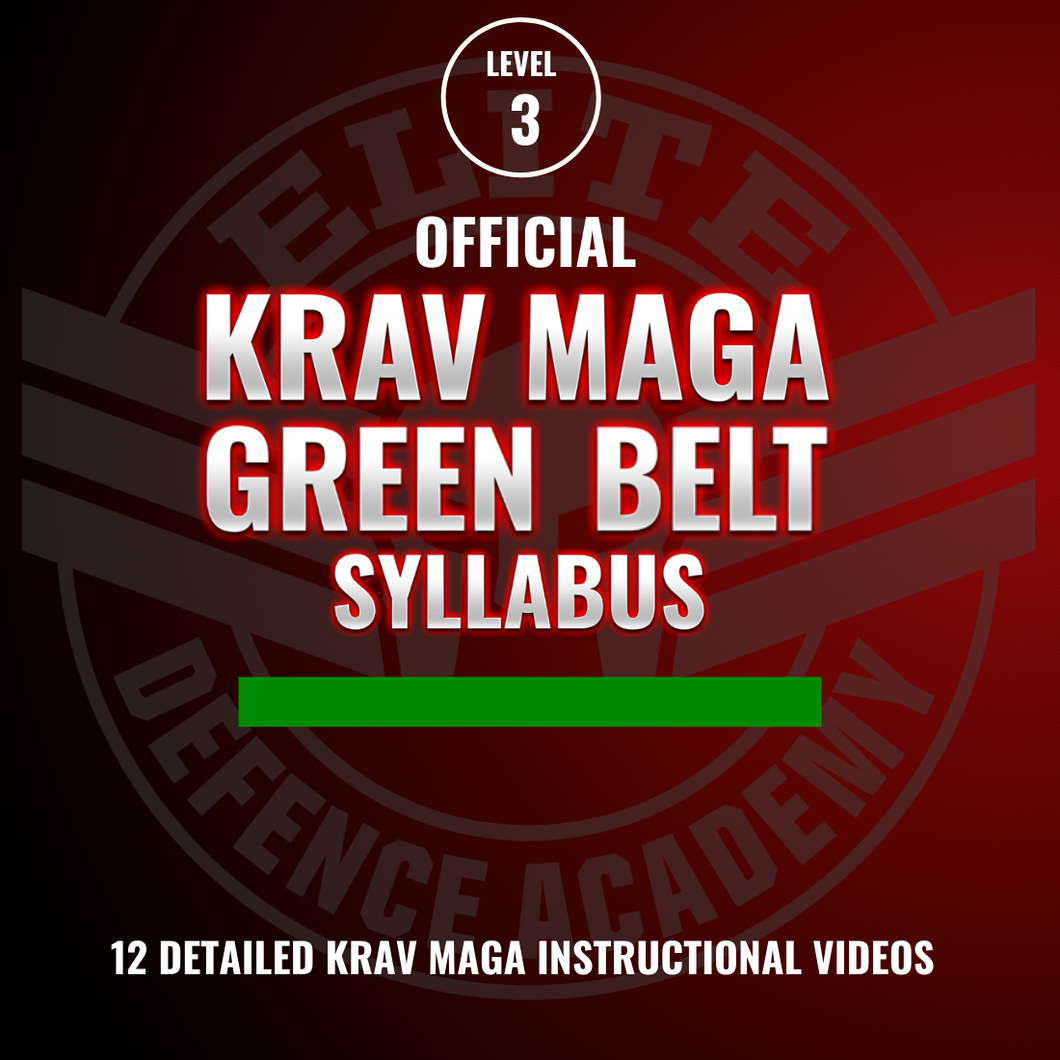 EDA Krav Maga Green Belt Syllabus 12 Videos
Regular price R 1,999.00 Sale
ENTER INTO INTERMEDIATE PHASE TRAINING WITH THIS ELITE DEFENCE ACADEMY INTERNATIONAL BELT LEVEL COURSE
Now, for the equivalent of only US$120, you can take the next step and move past the fundamentals as you begin deeper training in the EDA system of Krav Maga taught in our classes worldwide.
ADDING LAYERS OF POWER AND INSIGHT
Our 12-Module Krav Maga Green Belt Course is a step-by-step, 12-video training course that teaches you how to progress into intermediate level Krav Maga training. 
As with all our syllabus modules, every one of these videos contains a response to a specific situation, and teaches you how to apply Krav Maga techniques to neutralize the threat or attack instantly and effectively.
All techniques taught within our system have been proven over the years in actual situations on the street and are effective regardless of your fitness or strength.
The Green Belt Syllabus bundle is the third step in our belt ranking system, illustrated and taught within these 12 detailed videos.
This bundle of videos includes:
The lighting-fast Bicycle Wheel Handgun Disarm, and 3 ways to do it.
The Wrist Pluck handgun disarm for awkward angles.
The Hook and Lock Handgun Disarm rebooted for unusual situations.
The Scoop and Hug disarm for side and rear threats.
Everything is a strike - how to amplify power and use different parts of the body.
The 16 key principles of EDA Krav Maga techniques.
Drills to develop aggression.
Defending against in-vehicle violence.
Dealing with a weapon threat on the ground.
Disarms against rifle and long gun threats.
Powerful takedown techniques.
Restraining an attacker.

Purchasing and completing this 12-module course enables you to:

- Learn intermediate level principles and techniques that take you past the basics.

- Qualify to apply for an optional online Belt Ranking Test and certification if you would like to.

YOU GET A PERSONAL MENTOR:

Remember, when you purchase our material, you are entitled to personal mentorship, where we will answer any questions and assist you with your training at any time.


PLEASE NOTE: Once you've completed your purchase, you're added to our customer registration list before your video link is sent to you. Because this is a partially manual process, it may take between 30 minutes and a couple of hours, depending on the volumes we're processing. So rest assured - once you've done your purchase, your video link will be sent direct to your inbox!